This Creamy Avocado Pasta is made even more delicious with the addition of roasted cherry tomatoes. What's best, this avocado pasta is creamy without adding cream! So quick, easy and silky smooth, you're bound to fall in love with this dish – Hungry now?  Jump to Recipe
It's not often we see a dish with the potential to be vegan uploaded to blog, but I am MORE than happy to introduce one when it's this delicious. Creamy Avocado Pasta, no cream yet oh so creamy. And that's all down to our good friend 'avocado'. Oh avocado, how you can do no wrong.
By simply blitzing a couple of avocados in a food processor with a few other simple ingredients, you get this silky and creamy sauce. WHICH by the way pairs nicely wrapped around some pasta. Could you tell?
I toyed around with this recipe quite a bit ranging from just avocado pasta, to avocado pasta ft. about 30 different unnecessary ingredients. What it came down to was trying to find a balance between the simplicity of the dish, whilst boosting as much flavour as possible. The creamy avocado pasta with no additions worked great, but there was just a little something missing. That little something was indeed some roasted cherry tomatoes.
Just look how cute they are waiting to go in the oven.
How to roast Cherry Tomatoes
1. Coat them in a drizzle of olive oil, salt and black pepper.
2. Shake them about to give an even coverage.
3. For quick roasting pop in the oven at 200c/400f for 10-12 mins until the skins just about to burst. For slow roasting cook at 150c/300f for 1-2 hours until shrivelled yet slightly juicy.
Simples!
Not only do the cherry tomatoes bulk out the texture a little, but they add some colour and add a sweet twang to the dish. That and they go absolutely deliciously with the basil in the sauce.
Speaking of sauce, can it get any easier!? And looking at these photos, can it get much more delicious!?!? The answer is of course no and no.
Ugh, I can just smell those gorgeous flavours through the laptop.
*drools uncontrollably*
How to make a Creamy Avocado Sauce without Cream
Most of the 'creaminess' comes from the avocado itself, but there are a couple of additions I use just to enhance that creaminess.
1. Extra Virgin Olive Oil – adding a few glugs of extra virgin olive oil as the food processor is pulsing the avocado will give a really silky finish to the sauce.
2. Pasta Water – pouring in a little bit of starchy pasta water as you toss through the sauce also helps add a creamy aspect!
This type of pasta dish works so well as a quick and easy brunch/lunch or dinner to feed four hungry souls. It's one that's great to play around with as well. Here I use linguine but any other long noodle pasta will work great.
I also like to add a dollop of Crème Fraîche for extra creaminess, but like I mentioned earlier if you're looking for a vegan option simply leave this and the parmesan out and grab yourself some vegan friendly pasta.
Either way somebody grab me a fork 'cause I'm hungry all over again.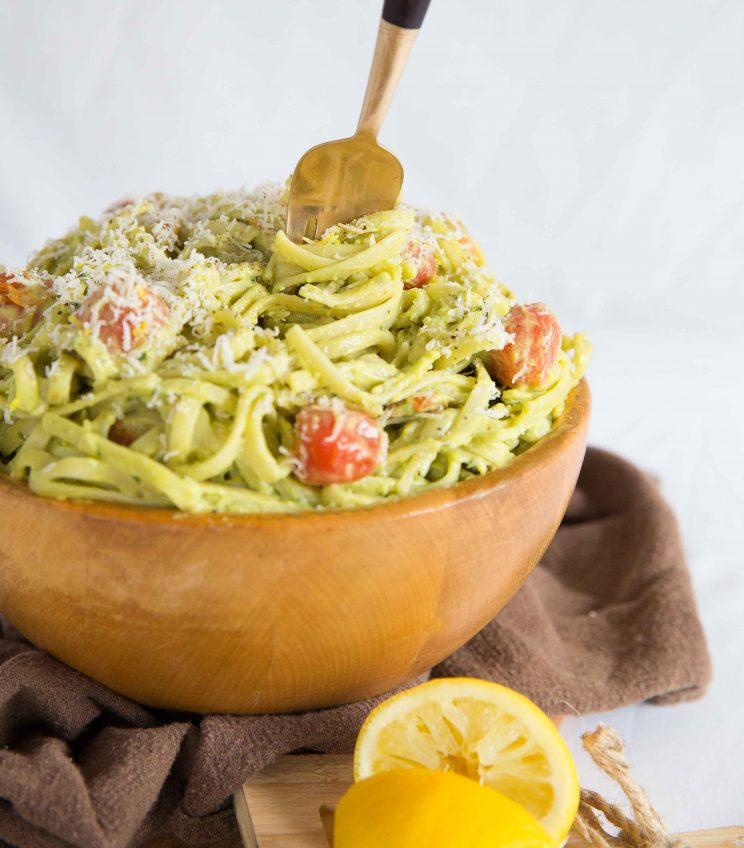 Hope you give this one a go guys, it's truly scrummy! A delicious and creamy sauce, yet no cream involved. Perfect for lunch 'n' brunch!
How to make Creamy Avocado Pasta (Full Recipe & Video)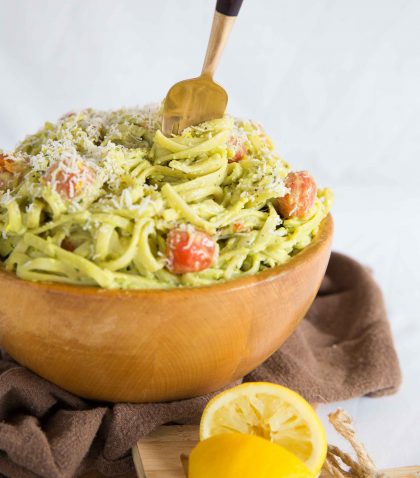 Creamy Avocado Pasta
'This Creamy Avocado Pasta is made even more delicious with the addition of roasted cherry tomatoes. What's best, this avocado pasta is creamy without adding cream! So quick, easy and silky smooth, you're bound to fall in love with this dish.'
Ingredients
2

Avocados, ripe but not bruised

12.3

oz

(350g) Linguine (or pasta of choice)

1

cup

(250g) Cherry Tomatoes

1/3 - 1/2

cup

(80-125ml) Extra Virgin Olive Oil, plus extra for roasting the tomatoes

2

cloves

Garlic

1

handful

Fresh Basil

1

Lemon (juice of)

Parmesan Cheese, finely grated to serve

Salt & Black Pepper, to taste
Method
Coat your Cherry Tomatoes in a drizzle of Olive Oil and a pinch of Salt & Pepper. Pop in the oven at 200c/400f for 10-12mins or until they just begin to burst and the skin begins to wilt.

Pop your pasta in salted boiling water and cook according to packet instruction. Keep 1 cup of your pasta water after it's cooked.

In a food processor, blend your Avocados, Basil, Garlic, Lemon Juice, Salt and Pepper. Gradually pour in your Olive Oil as they are blending, until a smooth silky consistency. Taste test and adjust accordingly.

In a suitably sized bowl, or even the pot you cooked the pasta in, toss through your sauce with the pasta and tomatoes, using your reserved cup of pasta water to thin out as needed. Add in Crème Fraîche for an extra creamy finish if desired.

Serve with a generous sprinkle of Parmesan, a squeeze of Lemon Juice and a little extra Black Pepper.
Recipe Notes
a) Roasted Tomatoes - Here I do a quick roast to keep in line with an overall 'quick' meal. For best practice low 'n' slow in the oven will give you slightly more caramelised tomatoes. If you've got the time and patience, consider lowering the temp to 150c/300f and cook for 1-2 hours, or until shrivelled yet slightly juicy inside.
b) Whatever you choose to do, use a pan with a curved edge to catch the juices. And when said juices are caught, definitely combine in your pasta for extra flavour!
c) Food Processor - If you've got a powerful, trusty food processor, putting all the ingredients in at once won't be a problem. However, if your food processor struggles a little, consider adding your garlic and basil first, blend, then add in the rest of your ingredients.
d) Seasoning - With such few and simple ingredients it's imperative that you season this dish well to enhance the flavours as much as possible. Seasoning the pasta and tomatoes is key and so is taste testing after you've blended the sauce.
e) I have seen similar recipes to this advising that the pasta must be eaten straight away and can't be kept. I find that if you squeeze a layer of lemon juice over any leftovers and seal as tightly as possible, it will keep in the fridge for up to two days. The avocado will brown just slightly, but taste wise you're good to go.
f) Meat Lovers - Grilled chicken goes perfectly with this pasta!
g) Calories - 592 per portion (division of 4) based on 1/2 cup Extra Virgin Olive Oil plus 1 tbsp for the Cherry Tomatoes, 1 tbsp of parmesan per person and no Crème Fraîche.
---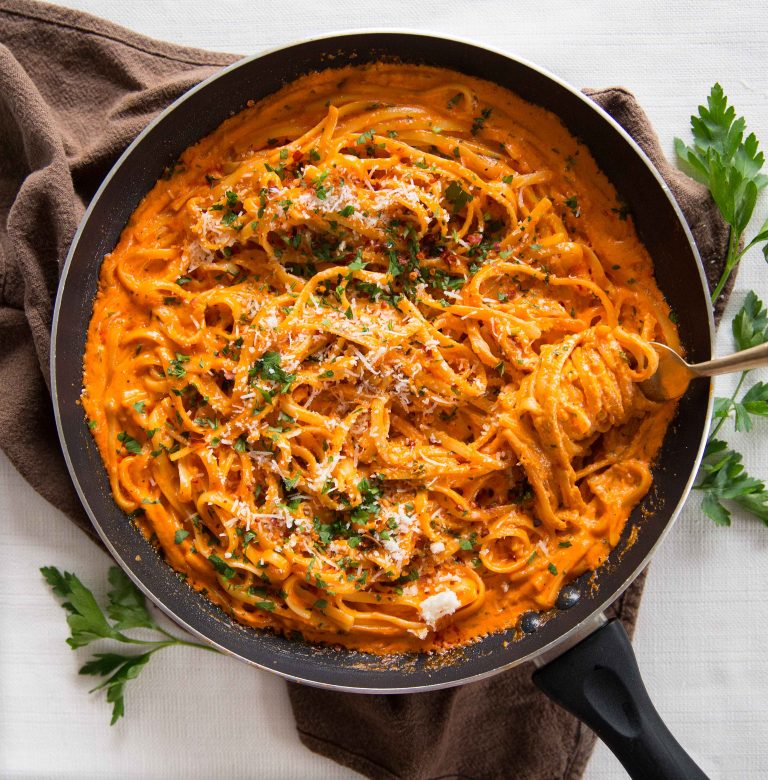 If you loved this Creamy Avocado Pasta be sure to Pin it for later! Already made it? Let me know how you got on in the comments below!