---
'The Beer Battered Bloomin' Onion takes onion rings to a whole new level. With the accompaniment of a creamy and tangy Sriracha Mayo this recipe is an absolute winner!'
Bloomin' Onions are so great to make for a sharing appetizer, for game day, a side dish or even just because you're darn fed up with your diet and want to devour the definition of comfort food. For me personally, the latter. Always.
The key to a delicious Bloomin' Onion is finding the biggest white onion you've ever set your eyes on. I'm all for 'good things come in small packages' but in this instance bigger is certainly better.
The bigger the onion, the bigger the petals and the less chance they're going to turn into wilted crispy bits of batter when they're fried.
On the whole this Bloomin' Onion recipe is super easy. I know when I first saw a Bloomin' Onion I thought 'how the frick did that happen?', but trust me it's so simple.
Hey look, some guidance photos!
How to make a Bloomin' Onion
I've experimented with a few different coatings and for me, nothing beats the beer batter.
 Once the cold beer hits the hot oil it creates tonnes of air bubbles which is what gives you that lovely crispy, airy batter. Using beer actually quickens the cooking process too – alcohol evaporates a lot quicker than say milk or water, so the risk of overcooking the onion is reduced. For a little more info on this give Beer Batter is Better a quick squiz!
So we've got the onion bloomin' and the batter beer'd, now let's talk Sriracha Mayo.
There's no need to buy Sriracha Mayo, like ever. It really is as simple as combining Sriracha and Mayo. I like to chuck in a little garlic, a squeeze of lime juice and a pinch of fresh parsley for good measure, but not to worry if you're without these extras!
What's best is the spice level is completely in your control too – just taste test and adjust throughout. The only tricky part is not 'accidently' eating the entire bowl before it's served.
For those on dedicated diets, your journey unfortunately end here. For those who can't wait to wrap their chops around some questionable calories, look no further. Full easy Bloomin' Onion recipe right below.
Let me know who you get on folks and I'll catch you on the next post!
---
Beer Battered Bloomin Onion with Sriracha Mayo
'The Beer Battered Bloomin' Onion takes onion rings to a whole new level. With the accompaniment of a creamy and tangy Sriracha Mayo this recipe is an absolute winner!'
Course:
Appetizer, Side Dish, Starter
Ingredients
1

Large

White Onion

1

cup

(128g) Flour

1 1/2

cup

(375ml) Cold Beer

1

Egg, beaten

2 1/2

tsp

Paprika

1

tsp

Garlic Powder

1

tsp

Salt

3/4

tsp

Black Pepper

1/2

tsp

Thyme

1/2

tsp

Cayenne (or more to preference)

Vegetable Oil for deep frying
Sriracha Mayo
4

tbsp

Mayonnaise

1

tsp

Sriracha Sauce (or more to preference)

1/4

tsp

Garlic, minced

Squeeze

of Lime Juice

Sprinkle

of Fresh Parsley, finely diced
Method
Peel away the brown casing of your Onion and make a small slice at the tip. Flip the Onion over so the base is facing up and make around 12 (depending on onion size) equal incisions 1/2 inch away from the base. Flip back over and spread the petals out.

In a suitably sized bowl, mix together your Flour, Paprika, Salt, Pepper, Black Cayenne Pepper, Garlic Powder, Thyme and fully coat your onion. Sprinkle excess and place Onion to one side.


Stir in Egg then slowly pour in the Beer until a batter forms, thick enough to comfortably coat the back of a spoon. Place Onion back in and fully coat.

Deep fry for 6-10mins or until golden and crispy. Carefully remove and drain over a paper towel. Serve hot with Sriracha Mayo.
Sriracha Mayo
Combine your Mayo, Sriracha, Lime Juice, Garlic and Parsley. Taste check and adjust accordingly.
Recipe Notes
a) If the batter is too thin it won't stick. Don't feel like you need to use all of the guided amount of beer, every 'large' onion used in this recipe will most probably differ.

b) You can remove the core either at the beginning or end to fit in the Sriracha Mayo. 

c) Calorie guidance is for the whole serving of Sriracha Mayo. The calories of a Bloomin' Onion vary hugely based on the onion size, type/amount of beer and amount of oil. A large Bloomin' Onion can range from anywhere between *look away* 1000-2000 calories.
---
For the perfect accompaniment to any leftover sriracha mayo, check out my Roasted Sweet Potato and Black Bean Quesadillas!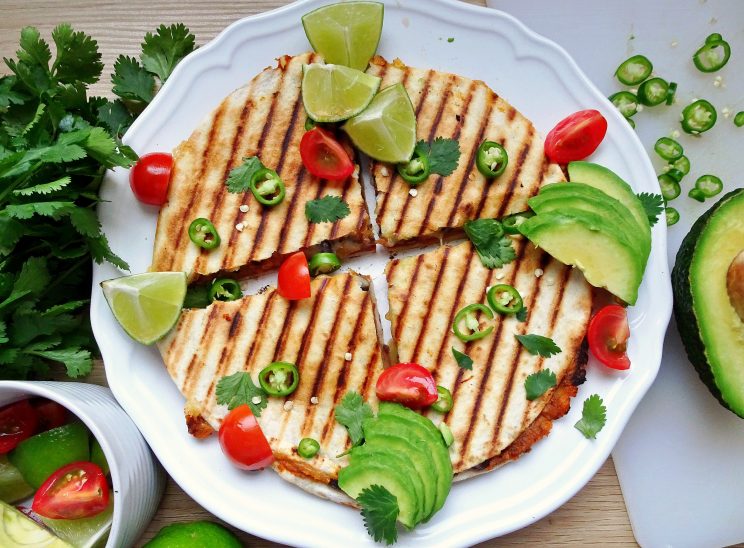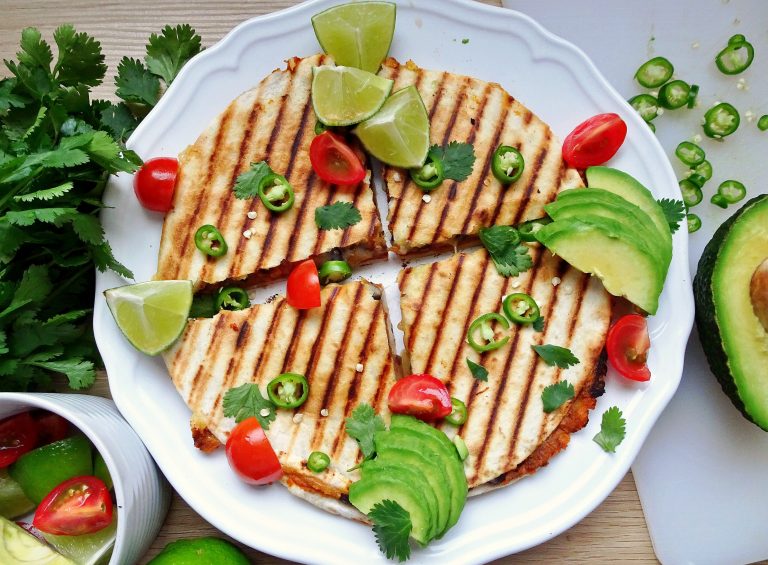 ---
---
Cheers guys, this has been ' Beer Battered Bloomin' Onion with Sriracha Mayo '. Comment, share, do whatever you fancy but for crying out loud don't go bacon my heart. See you next time 🙂