We've all seen the famous baked camembert, but are you ready for Baked Camembert Mac and Cheese? Meet your new favourite way to use a block of camembert in the most delicious way possible!
It's the middle of January and I'm eating mac and cheese out of a melted bowl of camembert, can you tell that diet thing never took off this year? I mean it never really takes off at any time of the year, I just sometimes decide it's time to cut back on the cheese every now and then. Clearly today does not class as that 'every now and then'. Today is a day to celebrate cheese and everything it stands for. What better way to do that than with my favourite cheese on earth ever ever ever. Camembert.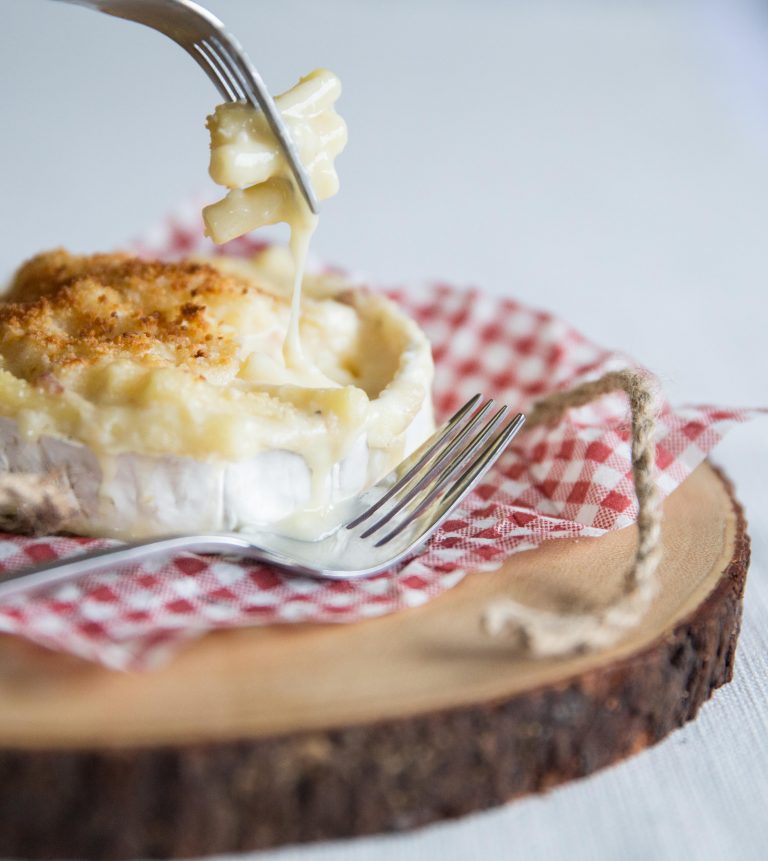 I've eaten enough camembert to risk my stomach actually turning into a block of camembert and trust me, it never gets boring. In fact it only ever gets better! Because everything is better with camembert, right?
And that's the theory I was rolling with in the run up to this creation. I'd read somewhere along my travels on the internet of putting camembert in mac and cheese. Genius! Why have I never thought of that? That creamy goodness melted in one of my all time fav meals! Yum.
So, that was the plan. Now I don't know if it was me just trying to get out of doing more washing up, but somehow the camembert ended up being the bowl.
I'm so glad it did because this is the most ridiculously delicious creation i've added to the blog in a while.
How to make Baked Camembert Mac and Cheese
With all good traditional baked camemberts it started with infusing with some garlic. Many recipes call for rosemary as well, but in a mac and cheese context I felt it wasn't necessary.
Once ooey and gooey, I threw in macaroni, bacon, mozzarella, black pepper and a squeeze of lemon juice. The mozzarella added some more creaminess without overshadowing the camembert. The squeeze of lemon juice helped cut through the richness of the cheese, which after a few rounds of testing emerged as a crucial ingredient in the whole thing.
And bacon because realistically it upsets me to eat mac and cheese (and by mac and cheese I mean literally anything) without bacon.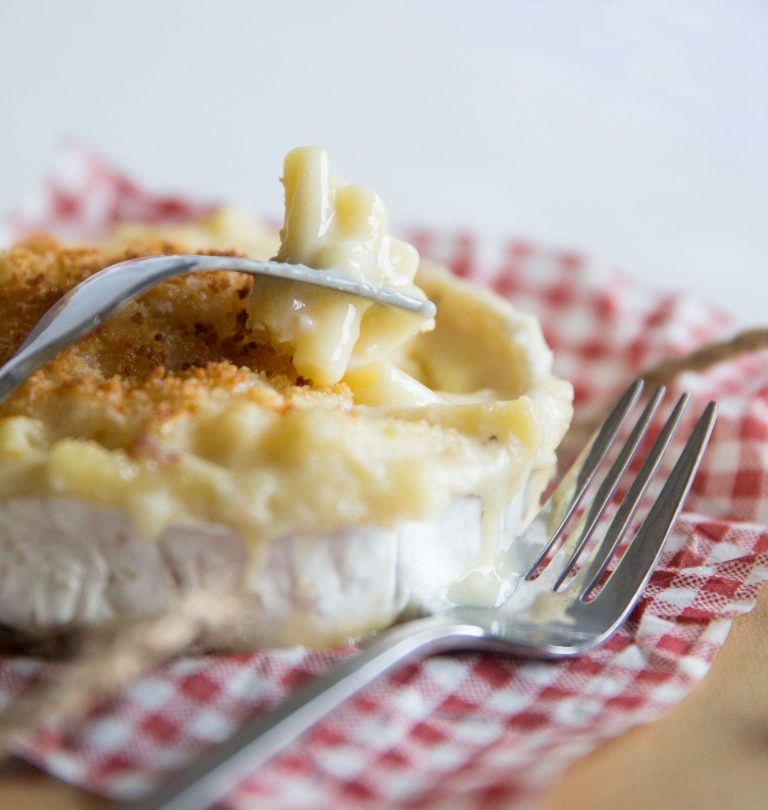 'So when the heckedy heck am I actually going to make this masterpiece?'
I know, sometimes I forget people need an occasion to eat cheese by the fork. But in all seriousness it's an amazing share appetizer for two. Me and my other half just grab a fork each and tucked straight in.
It's the perfect starter at a dinner party or an appetizer on game day. Also makes a fab side dish with some southern fried chicken. Just saying.
So if like me you ever find yourself in the dilemma of choosing between baked camembert or mac and cheese, just remember, why choose when you can have both? The answer is camembert mac and cheese. You're welcome.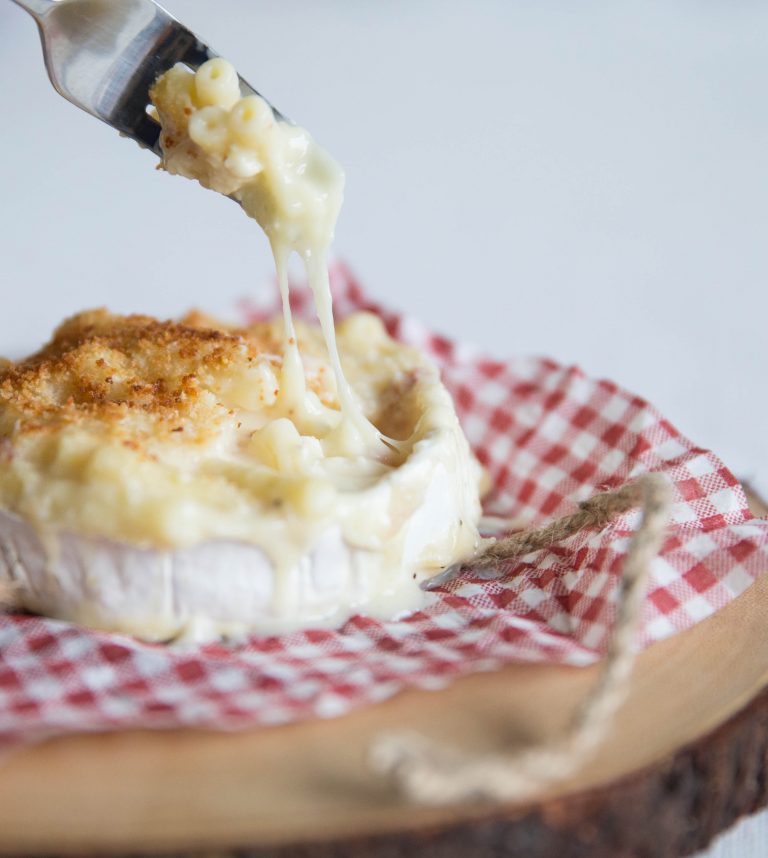 Join the foodie family! – Get awesome recipes sent straight to your inbox by signing up to my Weekly Mailing List (where you'll receive your FREE ECOOKBOOK) and stay in touch on Instagram, Facebook and Pinterest! 🧡
How to make Baked Camembert Mac and Cheese (Full Recipe & Video)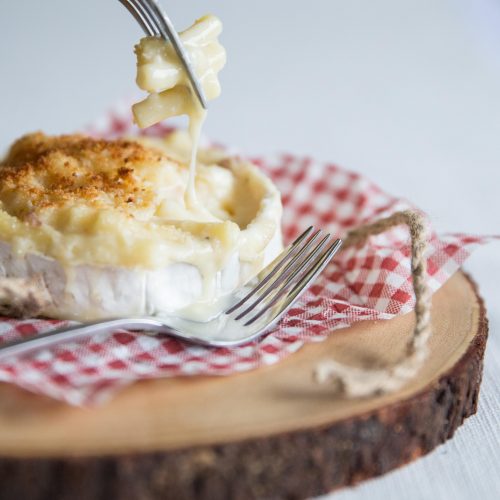 Baked Camembert Mac and Cheese
'We've all seen the famous baked camembert, but are you ready for Baked Camembert Mac and Cheese? Meet your new favourite way to use a block of camembert in the most delicious way possible!'
Print
Pin
Rate
Ingredients
1

8.8oz (250g) block of Camembert

3

tbsp

Macaroni Pasta

1

tbsp

Bacon, crispy & finely diced

(approx 2 rashers)

1

tbsp

Mozzarella, shredded

1

tbsp

Parmesan

1

tbsp

Breadcrumbs

1

large clove

Garlic, sliced into 5

1

squeeze

Lemon Juice

Salt & Black Pepper, to taste
Instructions
Preheat oven to 180c (356f).

Unwrap your camembert from any plastic it may be wrapped in. Place back in the box it came in (without the top).

Pierce 5 slits into the top and place in your 5 slithers of garlic.

Bake for 15-20mins or until gooey through the centre. During this, cook up your Macaroni until al dente and fry up your bacon until crisp, if you haven't already done so.

Keeping it in it's box, carefully slice of the top layer of your Camembert, removing the garlic as well. Stir in your Macaroni, Bacon, Mozzarella, squeeze of Lemon Juice & Seasoning to taste. Top with Parmesan and finish with a layer of Breadcrumbs.

Place under grill and broil until crispy on top.

Enjoy hot with a fork. No plate needed!
Notes
a) Boxed Camembert - Keeping the camembert in it's box throughout the process is crucial to ensure the camembert casing doesn't become flimsy and collapses. If it came without a box, tightly wrap up the base in aluminium foil. 
b) Cooking times - Unfortunately different brands of camembert will cook at different rates. I have tested this recipe in the same oven at the same temp with 3 different camemberts and they all varied in the time it took to become gooey. I know, helpful right? Just be vigilant from 10-12mins right up to 20. You want to catch the camembert just as it becomes gooey. If it's overcooked it runs the risk of falling apart as you stir in your ingredients. The best way to test this is to poke a knife through the top of the camembert. If it slides in comfortably and has melted cheese on it when it comes out, it's likely to be cooked.
c) With regards to salt & pepper, I usually only salt the macaroni water and leave it at that. Bacon, parmesan and the camembert itself are fairly salty already. However I do add a generous helping of black pepper. But each to their own!
d) Lemon Juice - The squeeze of lemon juice is a crucial ingredient. It will help cut through the richness of the cheese, which is appreciated when you're essentially eating cheese by the forkful 🙂
e) Calories - based on 1 camembert shared by two people.
Nutrition
Nutrition Facts
Baked Camembert Mac and Cheese
Amount Per Serving
Calories 475
* Percent Daily Values are based on a 2000 calorie diet.
Nutrition is based on the absence of salt unless stated as a measurement in the ingredients. Cost is worked out based on ingredients bought from UK supermarkets, then divided by the number of servings. In both instances these values are just for guidance. Please check out my FAQ Page for more info.
---
If you loved this Camembert recipe you'll love my Cranberry, Bacon and Brie Grilled Cheese!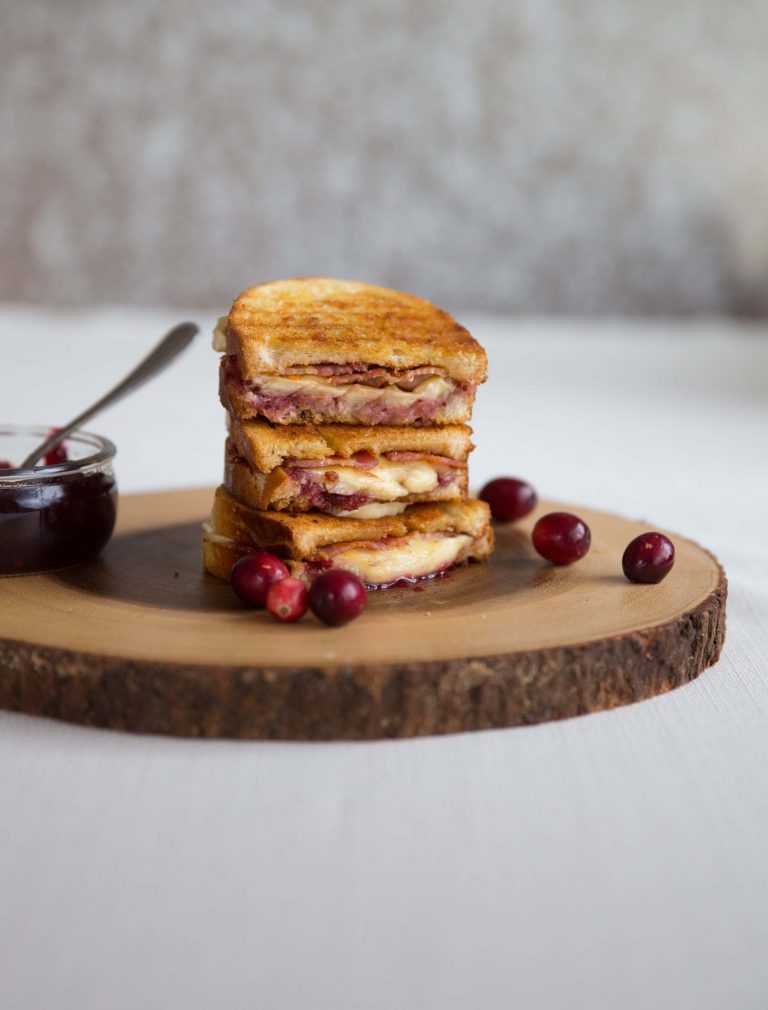 Be sure to pin this Baked Camembert Mac and Cheese for later! Already made it or got a question? Give me a shout in the comments and pick up your free ecookbook along the way!